VA - Garlic Shake 2008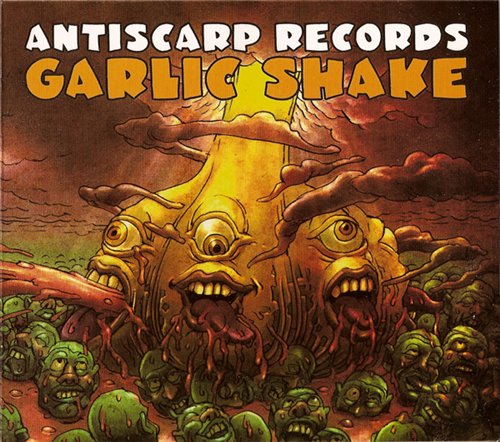 Artist: VA
Title: Garlic Shake - Compiled By DJ Whiskey Baba
Type: Album
Label: Antiscarp Records
Url:
http://www.antiscarp.com
Genre: Psychedelic
Style: Suomi
Rel.Date: 16.10.2008
Source: Digipak
Catalognr: ANSCD-01
Grabber: EAC
Encoder: Lame 3.97
Quality: VBRkbps / 44,1kHz / Joint-Stereo
Tracks: 10
Playtime: 70:41 min
Size: 135,1 MB
Release Notes:
Time has come for another compilation from Antiscarp Studios. Feel the Garlic Shake and enjoy it?s very special tremors! This one is a collection of some different projects compiled by dj Whiskey Baba and its follows the unique line of previous sound exploring standards by Antiscarp records. Artists on this cd are Salakavala, Garmisch Partenkirchenz, LPC, Calamar Audio and Pavel Svimba but also featuring Scozbor and Lava Lords + many more. Garlic Shake - The Best Shake You Ever Had!!!
Tracklist:
01. Vontelin Vonkaleet - Voihan Vonteli [06:37]
02. Calamar Audio - Calc Beach [07:25]
03. Pavel Svimba & Calamar Audio - Aamustufee [07:05]
04. Salakavala - Yelling Kidneys [06:12]
05. Lava Lords - Yoshida Scanning [07:20]
06. Garmisch Partenkirchenz - Sportic Beach [08:25]
07. Antiscarp Warriors - Drum & Soil [06:24]
08. LPC - Wednesday Weekness [06:53]
09. Scozbor Vs. Calamar Audio - Salakascozbor [06:14]
10. Calamar Audio Vs. Anx - Skeba Heaven [08:06]
rapidshare.com VA_-_Garlic_Shake-Compiled_By_DJ_Whiskey_Baba-2008-UZV.rar